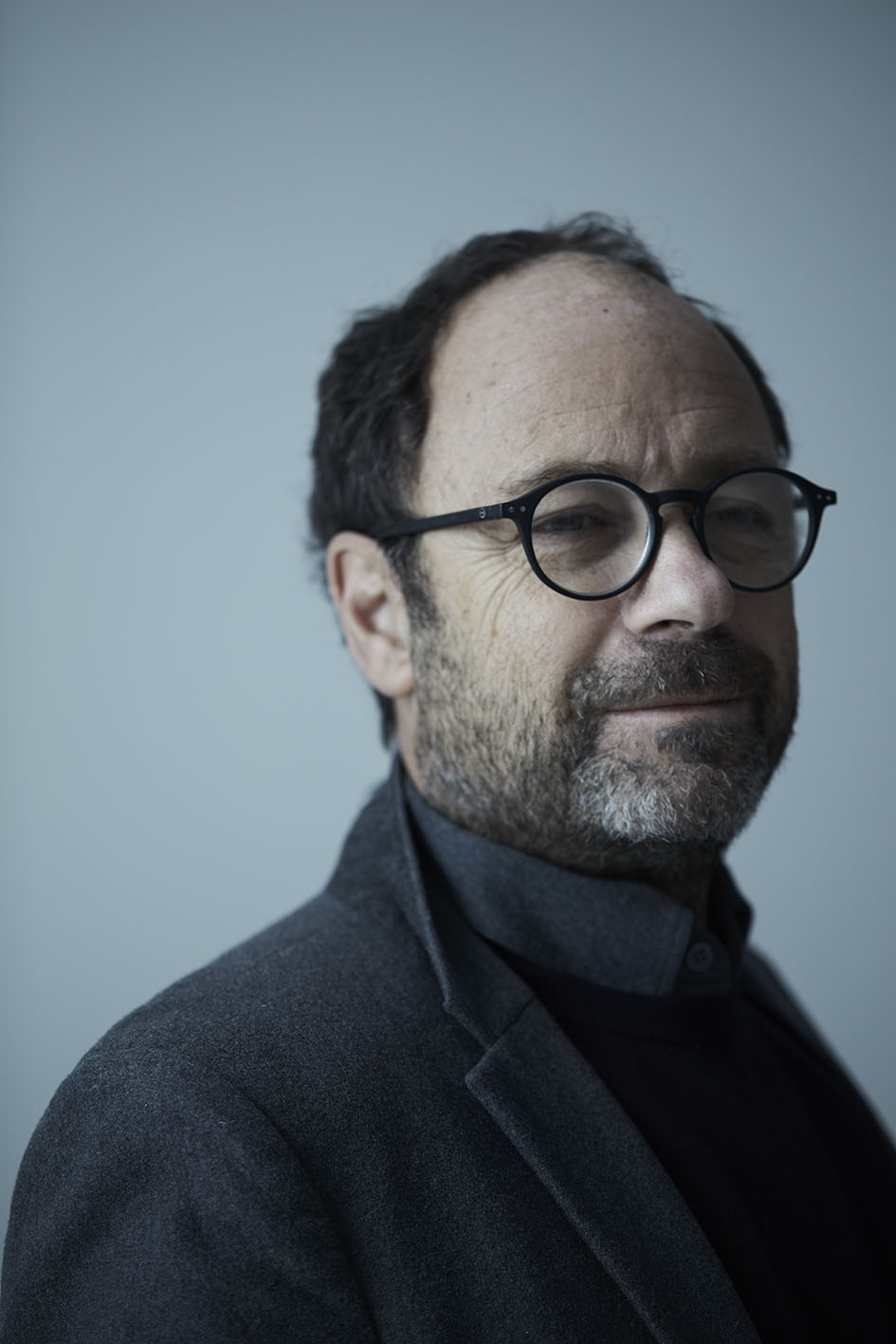 Biography
Born in 1963 in France, Thomas Dhellemmes lives and works in Paris.

Thomas Dhellemmes has been passionate about photography since his childhood. After studying visual arts, he went to live in the Cape Verde Islands.  When he moved back to Paris, he decided to dedicate himself entirely to photography. He developed personal artistic projects while earning a living by doing photography commissions (lifestyle, gastronomy, luxury...) with Atelier Mai 98, the creative photographic studio he founded. His creative work began with his Ektachrome photographs that included Un regard sur le Cap-Vert (A look at Cape Verde) (1986-88) and Promenade Silencieuse (Silent Promenade) (1989).
He then worked in black and white using Ilford film for Marié(e)s (Brides and Grooms) (1990-98). 
Since the 2000 decade (Légumineux (2009), Jour bleu (2019) in collaboration with writer Tahar Ben Jelloun and Path(s) (2020) for the festival Planche(s) contact in Deauville, Normandy), Thomas Dhellemmes has primarily expressed himself by using his Polaroid SX 70 camera.
He likes the timelessness, uniqueness and slowness of every picture. The camera's imprecision gives the spectator a total freedom of interpretation.
As a traveling photographer, Thomas Dhellemmes continually searches for a moment of absolute grace.
Emotions photographer, his work speaks of existence and of the fragility of life with its ephemeral nature.
He nurtures a mysterious distance with each subject.
The almost blurred Polaroid images captures perfectly the poetry of the moment, just like in the mists of mind and memory.
‍
"To me, taking photographs has always been a powerful act that I pursue with respect and uniqueness".


Philosophy
« Leave – Surrender yourself to an unknown place – Forget.Focus on a horizon, a white wall, a sign. 
Don't explain your choices. Just feel – Don't come too close so you don't understand.Just graze over it lightly – let your imagination take over. I like to take photos slowly, differently. 
This is a countercurrent to an era where everything moves too quickly without stopping. Where everything is multiplied instead of being unique. Make a beautiful moment simple. Make a universal moment unique.My life's voyage is that of a loving man. To love, love those close to me, love this world.»
‍
Thomas Dhellemmes

Background
2021
- Jour bleu, Group exhibition, Itinéraires des Photographes Voyageurs (Itineraries of Traveling Photographers), 30th edition, espace Saint-Rémi, Bordeaux

- Moment(s), Cut-out Polaroids, Solo exhibition, Polka Factory, Paris

- Horizon(s), Group exhibition with Marie Veyron Bahthelier - Galerie, Port Joinville, Ile d'Yeu.

2020
- Chemin(s)/ Path(s), Group exhibition, Deauville Festival Planche(s) Contact, 11e edition, Normandy, Artistic Director: Laura Serani

- Cut-out Polaroïds, Solo exhibition, Merci Concept store, Paris 
- A forest, Group exhibition, Polka Factory, Paris

- Re-naissance (Re-birth), Cut-out Polaroids, Group exhibition at la Galerie Miranda, Paris

2019
Jour bleu, a book published by Éditions Cercle d'Art with the participation of Tahar Ben Jelloun. 
Solo exhibition at School Gallery, Paris 

2015-2009
Légumineux, book published by Éditions Atelier Mai 98
Solo exhibition at School Gallery, Paris
Group exhibition at Paris Photo & Los Angeles Paris Photo
Solo exhibition at Galerie Ofr, Paris
Solo exhibition at Le Collateral (Les Rencontres d'Arles), Arles

2000
Bois et livre (Wood and book) book published by Éditions Co&Co, Solo exhibition, L'Art du Jardin, Longchamp, France 

1999
Marié(e)s, (brides and grooms), book published by Éditions du Collectionneur Group exhibition with Thierry des Ouches, Fondation Caprim. 

1989
Promenade Silencieuse, Solo exhibition at the St-Cloud Park National Domaine.

1988
Un regard sur le Cap-Vert (A look at Cap Verde), Solo exhibition at Rencontres d'Arles.

Awards
2017
International Festival of Culinary Photography - Public Prize 

2014
Literary Gastronomy Prize
Antonin Carême for the book C'est si bon... - Paris la nuit realized with Béatrice Cointreau

2013
Grand Prize of Photography for Gastronomic Heritage 

2008
- Gourmand World Cook Book Awards
Special Jury Award for the book Souvenirs Gourmands (Gourmet Memories) of Vaux-le-Vicomte, Flammarion Editions

-  Winner of the Images Prize at the 26th Jasmin Prize
For photographs illustrating the article by Anne-Marie Corre, Mon parfum est un roman (My perfume is a novel), Paris-Match 

- Best Cook Book Photography et Best Single Subject Food Book
Épices (Spices), Hachette Pratique Editions

2004
Gourmand World Cook Book Awards
Best Chocolate Book for the book Les sept péchés du Chocolat (The seven sins of chocolate), Hachette Editions